Before you trade #forex know your strategy don't get caught out.
There are a few of ways to trade the forex market.
Either you try and sell at the "highs" or buy at the "lows" , you could trade with the trend , or you could trade breakouts from a range.
There are lots of methods of trying to find these entry places. Be it Elliot wave analysis or harmonic patterns for the lows and highs , or maybe a mixture or indicators to get you in with the trend and or breakout.
One thing is sure though before you do any of the above you MUST have knowledge of what strategy is being used so you as a trader know whats going on and if necessary do your own backchecking to validate and build confidence in the strategy.
You must learn how to implement and use a strategy on your own , never ever ever be a sheep blindly copying someone elses trades.
There are various signal following websites out there and unless you know the strategy of any traders there that you want to follow my advise is DONT use them !
Thing is these "traders" 99% of the time wont tell you exactly their strategy so its impossible to check what they are up to .
Take the case in point below.
Here we have a selection of recent trades that this trader has done.

Notice the profit taking all around 10 pips and to the right of  that is total pips so far . around 700 pips . Hmm not too bad,
He has an equity curve like this :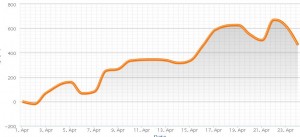 So doesnt look too bad.
what you have to look at however is the frequency he is trading and how much drawdown each trade is going typically each trade is dropping 30-50 pips and he is taking 10 pips profit per trade.
Alright so may be ok, after all he has made 700 pips in a short while  but is this sustainable?
You very often hear about how you should cut losing trades and fast and how you also hear about how trying to pick a top or bottom is account suicide. What's worse is failing to accept your wrong and keep adding a a losing position.
so here are his positions about 5 days ago :

Not looking too good now .
Profit is now down to 320 pips and Open positions are swallowing 420 odd pips up.
Now we check today.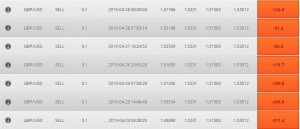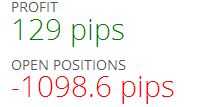 A whopping 1100 pips in drawdown , what the hell is going on here ?
Where is a strategy that allows for this ?
Sad thing is people are actually following and copying these trades.
Well what he may be doing is adding positions and then praying that some of these will get into profit to offset the other losing trades. Will this happen ? Nobody knows.
Would I want to be sat in all that drawdown , no thanks, as the strategy that was used here is obviously long gone. ( for me it failed when the first trade went -50 pips in drawdown)
The point I am trying to make here is that before you do any trading you should know your strategy 100% inside out. You should know or have methods to know when a strategy is not working as nothing is 100% when your trading Forex ( or any market for that matter)
When a trade looks like its not going to work out , you get out, admit defeat on this particular battle and move on. Not keep adding to losing trades with a prayer each time ,thinking that "maybe" this time its going to start working.
For all of the trades we do here , we make available our strategies in our education section , our forum , where all trades are commented on and if you are using MT4 the indicators and templates are in downloadable format to full members, so that even if I am not trading at a particular time you will still be able to.